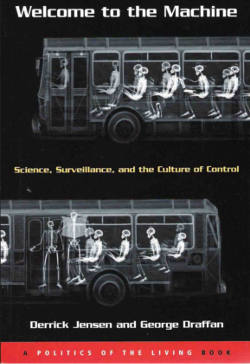 Take the humanity, the unpredictable humans, out of the never-ending loop. Move toward a fully automated world. Welcome to the machine.
From biometric passports to identity chips in consumer goods, from nanoparticle weapons to body-enhancing and mind-altering drugs for soldiers, Welcome to the Machine shows how we are all trading our humanity for a place at the consumer table.
Award-winning authors Derrick Jensen and George Draffan reveal the modern culture of the machine, where corporate might makes technology right, government money feeds the greed for mad science, and absolute surveillance leads to absolute control and corruption. Through meticulous research and fiercely personal narrative, Jensen and Draffan move beyond journalism and expose to question our civilization's very mode of existence. Welcome to the Machine defies our willingness to submit to the institutions and technologies built to rob us of all that makes us human: our connection to the land, our kinship with one another, our place in the living world.
Contents and Excerpts
The All-Seeing Eye
Science
Control
Identity
The Machine
Fear
Rationalization
The Panoptic Sort
Nothing to Fear
The Real World
Money
The Noose Tightens
The End
Humanity
Derrick
George
The All-Seeing Eye
Science
Control
The Machine
Fear
Rationalization
The Panoptic Sort
Nothing to Fear
The Real World
Money
The Noose Tightens
The End
Humanity
Reviews
October 2004 and March 2005, reviews by Library Journal and by John Ziebell for Las Vegas Mercury
Translations